TACOM Funding Outlook
Details

Published on Thursday, 09 August 2012 20:17
Written by Jeff McKaughan, Senior Analyst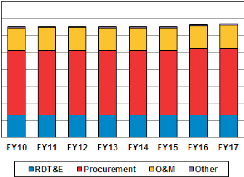 The Army Tank-Automotive and Armament Command (TACOM) has an FY13 budget of $6.5 billion, following similar funding levels in both FY11/12. From these similar numbers there has actually been a decrease in funding from FY08/09. Procurement continues to receive more than 50 percent of the annual budget. O&M funding rises slowly, reflecting the funding required for Army operations in Iraq and Afghanistan, which are placing a strain on Army vehicles. RDT&E also rises because of developmental requirements.
The chart below shows TACOM's budgets from FY10 through the (anticipated) FY17 figure (dollars in millions).
TACOM will see major budgetary growth during the next five-six years, spurred by the three accounts of Procurement, RDT&E, and O&M. The army will be under increased pressure to fund several large pro-grams and justify whether it is better to upgrade and modify older systems or to fund new projects at a time when combat operations are scheduled to decline. The Ground Combat Vehicle will be an important program for TACOM. Funding for TACOM will remain strong for both RDT&E and Procurement. The need for a tactically mobile force and a continuing high OPTEMPO which is using use¬ful vehicle life at an accelerated rate will mandate a strong, growing budget for the command.