DARPA Funding Outlook
Details

Published on Friday, 09 November 2012 20:05
Written by Jeff McKaughan, Senior Analyst
The transformation of the US military is heavily dependent on technology and many (most?) of those key technologies have yet to come to fruition. DARPA's stands at the center of the research circle that revolves around the DoD and years of dwindling budgets for new research appear to be over in the short term. There will come a time when the transfer of funding will have to switch from re-search to design and productions but that timeline is several years away at best.
This means the line has four more years, at least. It also means that it has lived to see Gates's departure, al-though that no longer means any-thing. The budget is falling, and despite the pivot to Asia, military lift does not look set to benefit. The C-5A RERP is dead. The C-27 JCA is dead. The C-X (the C-17's replacement) has been delayed by a decade. And most of all, there's no talk of more C-17s.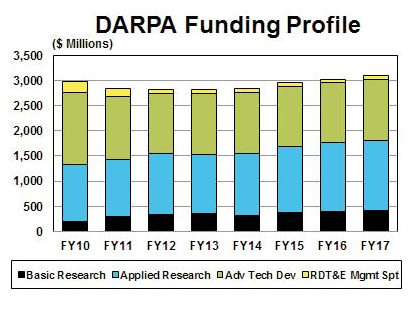 The result is that the US military has no money for new lifter development on the horizon, and no money to keep its only strategic lifter line open. In a few years the USAF will need to think about replacing early production planes that have been used at a much faster than expected rate. But nobody is in the mood to think ahead right now.
Increases in the year to year DARPA budget can be expected to be strong. It is expected that there will be overall growth between now and FY167. The generational technologies that the DoD needs to bring transformation to reality are expensive and it will be DARPA's main responsibility to produce results either from their own research or through their surrogates.